February Custom Belt Carousel
So guys, we are going to be doing a regular monthly post showcasing our world renowned custom belts and here are some of our favourites from February.
Black leather is by far our most popular choice. Any embroidery colour looks great.
White leather is a rare choice as far as our custom belt orders go, the blue on white here really pops.
Pink on black, what do you think? Combined with a pink leather inner this is a winning choice
As well as text, adding a logo to the mix gives a solid effect. The tank line drawing was tough to reproduce but it came out perfectly.
Black leather with a red inner is our number 1 choice of custom belts, add red embroidery to the outer and you have something special.
More black leather and red inner examples.
We also offer a 3D lettering option, the JEM belt has a red edging on the letters which is a nice touch.
Few more colourful designs here. The yellow is a personal favourite
White belts are some of our favourites to do. Personalisation on white leather really pops.
We love the way these logo customs turned out. Logos can be tricky if there's too much detail or shading but these are perfect.
Like what you see? Head over to our custom belt page and build your own now!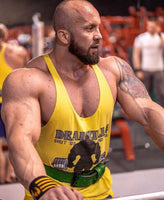 6 Best Exercises For Weight Loss
As with any fitness goal, losing weight is more than just picking up a few exercises and slugging through it. You have to have a plan - diet, exercise – and reasonable, realistic goals you can keep...
Read more