The Best Weightlifting & Powerlifting Belts for Men and Women in 2022
We're a few months into 2022, and a lot of changes have happened.  COVID went away, then came back again and we're almost back to normality
Gyms were opened, then closed, then opened up again.  Regardless of what country you're in, you've probably experienced some combination of unemployment, rising prices and economic turmoil.
On top of all this, we have the constantly-shifting narrative regarding vaccines.
One thing that hasn't changed, though, is that you need a good weightlifting belt.
A solid weightlifting belt functions a lot like a good pickup truck: it may not be the most glamorous thing, but it gets the job done.
A great weightlifting belt combines all of the functionality of a traditional belt, but with a fashionable design that will look amazing in the gym.
Here at Gunsmith Fitness, we take pride in our Premium Lifting Belts.  All of our belts are made with high-quality materials, whether it's a Custom Olympic Lifting Belt, or a stripped-down, utilitarian Nylon Weightlifting Belt.
In this article, we're going to discuss some of the differences between the belts, and ultimately which one will be best for you.
Why Weightlifting Belts are Essential for Your Workout
Before we get into the different varieties in belts, let's go over the two categories of belts: Olympic and Weightlifting/Powerlifting.
Olympic belts tend to be wider in the back, and are often times made of more flexible material.  This is because Olympic lifts, such as the snatch and clean and jerk, require much more flexibility.
Olympic belts aren't just for Olympic lifters, either.  They're very popular among Crossfitters as well.
Weightlifting or Powerlifting belts are almost always the same width all the way around, which is usually 4".  These belts tend to be stiffer, and are used primarily in squats and deadlifts.
To make a long story short, and to cut through some of the confusion, you can follow this basic rule: if you're not focused entirely on Powerlifting, you can go with an Olympic belt.  And Olympic belt will still provide a high level of support, while giving you the flexibility in your abdomen and hips for movements like the clean and jerk.
Gunsmith Premium Handmade Weightlifting Belt


Part of our Shibusa line, this high-quality weightlifting belt is 4" wide all the way around, with a thickness of 10mm.  It's made of premium, vegetable tanned leather, and is a natural brown color.  
The belt has a single-prong buckle, which means it's easier to use than a double prong design, and will last longer than a lot of competitor's lever prong designs.  
Gunsmith Premium Handmade Lever Weightlifting Belt
The purpose of the lever is to provide a more rigid belt to press into.  When performing squats or deadlifts, powerlifters will take big breaths of air and push with their abdomen against their belt, increasing the tightness int heir core.  This allows them to safely lift more weight.
4" Nylon Weightlifting Belt
This no-frills belt has everything you need in a weightlifting belt, stripped down to the very basic essentials.
Made of a durable nylon material, with hook-and-loop fasteners, this belt provides all of the benefits of a leather belt for a fraction of the cost.
4" Apex Black Powerlifting Belt
The Apex is without a doubt our finest belt, hand-crafted using the finest leathers, oils and metals. This isn't meant to compete with the world of mass-produced, sporting-goods-store weightlifting belts, but to offer a stronger, longer-lasting alternative for customers serious about strength training and investing for the long haul.
Now available in an all black Powerlifting version with numerous buckle types and in either 10mm or 13mm for those needing even more support. From the leather, buckles, rivets, even the stitching. It's all black! The most comfortable belt you'll ever use.

Shibusa 4" Premium Leather Olympic Belt
Another model from our Shibusa line, this brown leather belt is made with the same high-quality materials as our Shibusa Weightlifting Belt, but is thinner in the front and sides for added flexibility.
The back of the belt is still wide to provide support for the lower back, and the single prong design means it's durable and easy to use.

Women's Weightlifting Belt
You didn't think we would forget about the ladies, did you?
This Women's Weightlifting Belt is designed specifically for women.  The belt is contoured to fit snugly around your waist and hips, offering great support for your back and core.

Bespoke Custom Belts
If none of these belts really draws your attention, perhaps you need to take it to the next level: a Bespoke Custom Weightlifting or Olympic Belt from Gunsmith Fitness.
Gunsmith Fitness produce belts renowned for their premium materials and build quality. Now you can have one of your very own design for a truly unique look.
The market is flooded with mass produced cheap belts. We will make your design to the highest standards with the finest leathers and metals, every item out of our workshop is unique.
We are offering a custom package where you choose everything from the shape, thickness, leather colours, buckle type, rivet colour and of course what you actually want embroidered or printed on the belt.
Custom Belts are available in both Olympic and Weightlifting models.

Conclusion
While this is not a conclusive list of our belts, these are some of the most popular models that we carry.
If you don't see what you want, feel free to browse our entire lineup of belts.  If you have any questions, don't hesitate to contact us.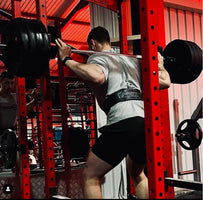 How Can I Improve My Squat Strength?
The meatheads here at Gunsmith Fitness love to keep things simple, and not just because we're all a bit slow in the head.  Our general philosophy has always been Keep It Simple, Stupid, or K.I.S.S....
Read more
We've been crazy busy with launching our Performance Joggers lately but that doesn't mean we've stopped doing customs. Oh no! Here's a few recent ones that came out great. Top left is a lovely bur...
Read more