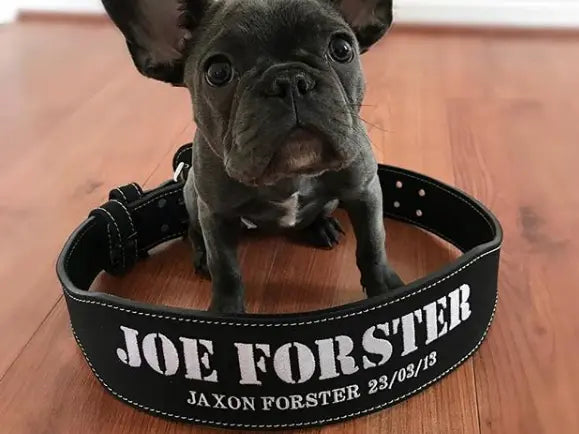 To Custom or Not to Custom? How to Find the Ideal Weight Belt
You've been lifting regularly and you're seeing some solid gains. Getting nice and swollen, but now you're getting a little bigger and a lot stronger. The newbie gains have stopped coming and you're wondering what's next.
As the weight starts to pile up on the bar, thoughts of injury prevention roll through your mind. One question keeps coming up...
Should I get a weightlifting belt?
After all, that guy that's squatting plates on plates next to you every Tuesday afternoon always seems to be rocking one, A stylish one at that. The thing says "Giant" on it in big ole' letters and the guy that's rocking it, well, those words ring pretty damn true.
If that sounds like you, then you're in the right place. At Gunsmith Fitness, we offer premium weightlifting belts and accessories - along with the world's only truly customizable lifting belts. If you're looking for information about weight lifting belts, customization, and more - keep on reading. We've got you covered here.
What's a Weight Belt?
You certainly have some idea of what a weight belt is if you've been going to the gym, but many people don't really understand what these premium gym accessories are meant to do.
A weight belt is a thick strap that you attach around your waist to help your body stay supported during heavy lifts with big boy weights.
It's not some magic accessory that'll help you add insane weight. You won't hit four plates on each side if you normally hit three - but it is a powerful tool that can help make sure you keep getting the gains that you want while staying injury-free.
Basically, a weight belt is a tool that supports your core during lifts, so you have a nice rigid structure to hold up all that weight. Even if you've spent years sculpting a nice set of six pack abs, your torso is spongey. It has to be to allow you to bend, to turn and to move around effectively.
Unfortunately, that flexibility also takes away from possible support. That's where a weight belt comes into play. Add the weight belt around your waist, and you immediately increase the pressure around your abs - essentially transforming them from the pliable strips of muscle into a rigid beam that's going to hold that weight easily and effectively.
If you hold your breath and tighten your core while using a weight belt you'll increase that core stiffness even further and really maximize your body's ability to hold up weight comfortably. This leads to more comfortable lifts, less strain on your back, and yes, eventually should help you put up way more weight, too.
Wearing a weight belt isn't a sign of weakness, either. Don't let it get to you when your scranny gym bro gets on your case about it. It's the smart way to lift.
That doesn't make finding the right weight belt easy, though. Because it can be a process to find the ideal weight belt - custom or not. You can't just head to your local sporting goods store and grab any old belt off the rack.
What's the Difference with a Custom Weight Belt?
It might be tempting to head to the local sporting goods store and pick up a weight belt for your next workout, but don't rush out just yet. First, they won't have much selection to choose from anyway. Plus, the quality will be awful. Just trust us.
Before you buy any belt, you need to understand the difference between custom and regular belts. Along with what types of things to look for in a weightlifting belt. No matter what type you buy.
Basically, custom weight belts are super adjustable. When designing one of these belts, you get control over things like material shape, size and fit - as well as the overall look of the product.
Aka how you design the style side of things. Think something like this:
While regular weight belts from high-end suppliers, like yours truly here at Gunsmith Fitness can be fantastic, the build-it-yourself support belts from our Bespoke line are seriously something that every weightlifter should be looking at.
With these belts, you get to customize things like:
Belt Style
Belt Size
Thickness
Buckle Type
Colors
Materials
Logo Text / Graphics
And that's just the tip of the iceberg! Our Bespoke Belts are 100% customizable - all the way down to the stitching colours.
To Custom or Not To Custom?
Now that you know the importance of strapping on a weight belt for your lifts, you're probably itching to get your hands on one to see how it changes your deadlift and squat. By changes, we mean helps you add more weights and plates.
The next question is whether you want to customize a belt or not. You need to think about whether you just want an off-the-shelf belt or if you want something that's carefully customized to fit your body perfectly.
Everyone's body is different, and even though weight belts are highly adjustable, they're not going to fit everyone the same. Your torso is either longer or shorter than the guy's next to you. You might have a wider or thinner core, even the shape of your body itself is different than your buddy spotting you. That's why it's nice to have full control over the weight belt that you get, plus, the style is all yours.
You get to customize your belt to look exactly how you want it to. This is huge for many of our customers! Match your belt up with your gym outfit, have your name embroidered in the side, use it as a chance to showcase your nickname.
For many, the next factor is the price. Custom belts will always be a little more expensive. You pay to create something that's one-of-a-kind and only yours. That's just how things go.
If the price is a concern, one of our premium weight lifting belts from our accessories line would be ideal for you.
As the quality if still through the roof, but the product is a little cheaper than our Bespoke Belts line.
Gunsmith Fitness: Finding the Ideal Weight Belt For You
Weightlifting belts, whether custom or not, are an excellent investment when you want to lift more weight and stay injury-free. You won't find the level of customization that's offered by our team here at Gunsmith Fitness anywhere else. This makes it easy to get something that's going to fit like a glove and exude your unique style.
Choose the colors that you want. Decide how thick it will be. Choose the shape. Hell, even the buckle type is your choice.
Once you get all those details nailed down, it's time to think about any words that you want embroidered onto the belt. Add your name, add something that means something to you, or add a logo, Do whatever feels right. Just be yourself.
For more information on the best damn weightlifting belts around, check out our offerings here: