The Why's and How's of Wearing Figure 8 Lifting Straps
Why Figure 8 Lifting Straps are Beneficial
So as well as our existing range of straps & grips we've put together some awesome figure 8 straps to add to the collection. Why? Well read on and fine out!
Lifting heavier loads poses a greater challenge in getting a decent grip as your wrists and forearms may struggle, especially during the latter part of your training sessions. This hindrance may restrict the amount of weight you can put on your targeted muscles. Plus, if your forearms get frail before your lower extremities, you might need to intensify the targeted muscle growth to keep your gains. Do not let these hurdles get in the way for you can always wear a pair of lifting straps!
We know lifting straps give your wrists extra and proper support to bolster your grip in carrying the heavy weight your lower extremities can sustain. These aid in executing heavier pulls or snatches as you progress to your goal. However, there is a special kind of strap that is perfectly made for expert deadlifters, powerlifters, and strongmen competitors...
Gunsmith Fitness offers figure 8 lifting straps which ensure you get the support and the grip you need; whether it's deadlifts, heavy shrugs or rows. Meant to safeguard your lift, these infinity-shaped accessories loop your wrists in a double fashion, eliminating potential slippage due to loss of grip. These strongly fasten your wrists to your lift even when your hands take their break. Plus, you get to focus on pulling with maximum arm strength, making way for muscle growth instead of putting all the work on your grip and stressing your wrists.
Apart from destressing your hands, other benefits provided by figure 8 lifting straps include quicker and more manageable set up in contrast to other forms of straps. With double loops, these exclude the risk of having itself slipping mid-lift. If the product is too large for your hands, you can simply twist it as much as you need until the gap between your hands and the weightlifting equipment is suitable as desired.
You only need to follow five simple steps in wearing figure 8 lifting straps:
Slip one hand through the first half.
Loop the second end under the bar.
Put your wrist through the second half.
Grab the bar.
Lift.
Gunsmith Fitness' figure 8 lifting straps are made of leading industrial cotton. Every pair is soft to the touch, without losing its functional strength and durability. These are sturdy enough and take a while to break in. Though our straps become a bit flexible with use, these retain their power. Exceptionally robust, these bolster safety, comfort, effectiveness, and reliability above expectations--as they were designed to be.
Visit our page to get a pair of your next favorite gym accessory that will inspire you to achieve your best personal record yet!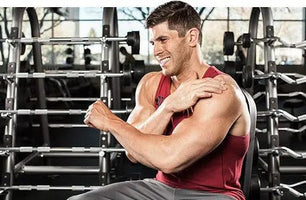 October 2020 Custom Belt Carousel
So we're going to be trying something new every month where we do a blog post to showcase our favourite customs we've done in the month. Let's see how it goes! First up we did a belt for IFBB Pro M...
Read more